Spain demands explanation over British nuclear submarine collision off Gibraltar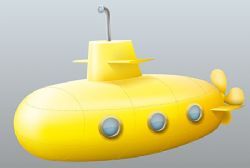 Spain's Foreign Ministry has called on the British government to explain Wednesday's collision off Gibraltar involving a British nuclear submarine and a merchant vessel.
The ministry says that while it was informed by the British authorities that HMS Ambush would be in Spanish waters, it was not told of the accident, as would be usual between two allies, and particularly in the case of a sensitive area like Gibraltar.
The incident happened on Wednesday at about 1.30 pm local time, the British Ministry of Defense said in a statement.
HMS Ambush was submerged when it "was involved in a glancing collision with a merchant vessel off the coast of Gibraltar," said the statement, adding: "We are in contact with the merchant vessel and initial indications are that it has not sustained damage."
Ambush suffered external damage but the boat's nuclear plant was not affected and no sailors were injured.
The 7,400-ton attack boat returned to Gibraltar for additional examination and an investigation is underway.
The submarine had been operating from Gibraltar, a contested British territory at the southern tip of Spain, since late June. Nuclear submarine operations from the tiny enclave of 30,000 have met with protests from both residents and Spanish citizens concerned with the boat's nuclear reactors.
The Royal Navy has suffered other instances of damage with their attack submarines.
In 2015, the sail of Royal Navy Trafalgar-class attack boat HMS Talent was damaged after the submarine struck ice shadowing a Russian Navy ship. In 2010, HMS Astute was grounded off the Isle of Skye shortly after being commissioned.
Recommended Reading :
* British Foreign Secretary reassures Gibraltar over its future
* Gibraltar fears Spain border closure upon Brexit