Spain poised to grow 2.9 percent in 2016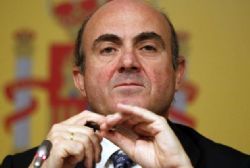 Spain's economy may grow around 2.9% in 2016, up from the current official target of 2.7%, although 2017 could come under pressure due to lower global growth, acting Economy Minister Luis de Guindos said on Sunday.
"New macroeconomic projections, which would be a first step prior to the elaboration of a future budget by the (next) government, point to a stronger growth rate of 2.9% in 2016," de Guindos told reporters on the sidelines of the G20 summit in the Chinese city of Chengdu.
Spain is struggling to form a government after two indecisive elections in six months.
Though de Guindos did not provide any figure for economic growth in 2017 he recognised that a slowdown in the euro zone could have an impact. The country is forecasting growth of 2.4% next year.
Madrid faces European Union sanctions for breaching fiscal rules in 2015, when it did not sufficiently cut its deficit.
Recommended Reading :
* Spain to ask EU for 2 additional years to reduce budget deficit
* Brussels lowers Spain's public deficit forecast