Spain Registers First Zika Virus Birth in Europe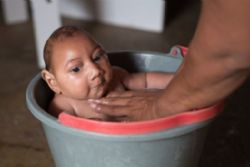 Health officials in Spain have registered the birth of a baby with Microcephaly in what is thought to be the first Zika virus birth in Europe.
Neonatal chief, Felix Castillo at Barcelona's Vall d'Hebron hospital, said that the child's vital signs were "normal and stable", adding the child's head is "smaller than normal and that it has Microcephaly". The child was born by caesarean section after 40 weeks of pregnancy.
Castillo said the child was being constantly monitored and that the parents were very excited about the birth of their child.
The mother was diagnosed with the Zika virus following a trip abroad, although authorities have not specified which country she had travelled to. The Zika virus is prevalent in South America and in particular Brazil.
Zika Concerns
According to the Spanish health ministry, there have been 190 cases of the Zika virus diagnosed in Spain. 189 were contracted abroad and one by sexual transmission.
Many South American natives live in Spain, often returning home to visit family and friends or receive visitors from South America.
Brazil is hosting the 2016 Olympic Games in Rio from the beginning of August where several million additional visitors will flock to the country, raising fears of a rapid spread of the disease across the globe as visitors return home after the games.
Zika Virus Info
Zika virus is related to dengue, yellow fever, Japanese encephalitis, and West Nile viruses. Zika is commonly carried by mosquitoes and transmitted to humans through bites.
Whilst Zika is not specifically known to be fatal, there have been cases where underlying medical conditions have turned fatal after contracting the virus, despite, in some remote cases, having completely recovered from Zika infection.
The Zika virus can be particularly harmful during pregnancy. An infected mother can pass the virus onto their unborn child with a high risk of leading to Microcephaly, although not always.
Microcephaly is a condition which, during pregnancy, the brain doesn't develop properly or after birth has stopped growing. Zika may also be passed from the mother to their baby during child birth.
Children with Microcephaly typically have a noticeably smaller head than non Microcephaly children. In severe cases of Microcephaly, children can die or suffer intellectual disability and developmental delays as a result of damage to the brain, requiring ongoing treatment and monitoring.
The Zika virus can also be transmitted through blood transfusions and potentially, unprotected vaginal, oral or anal sexual intercourse. Zika can also persist in semen.
Zika Symptoms
Most people infected with the Zika virus won't experience any symptoms or will have only very mild symptoms.
The most common symptoms of Zika are:
• Fever
• Rash
• Joint Pain
• Conjunctivitis (red eyes)
Other symptoms include:
• Muscle Pain
• Headaches
There is no specific medication or vaccine for the Zika virus, yet treating each symptom individually, getting plenty of rest and drinking fluids may help to sooth the effects. **
You MUST seek medical advice if you suspect you may be infected or at risk of infection. It is important to rule out Dengue Fever before taking certain medication such as Aspirin to reduce the risk of bleeding. **
** You MUST not, in anyway, regard the content of this article as medical advice. You SHOULD seek professional medical advice on any medical subject and/or condition and/or any treatments referred to in this article.