EU Drops Fiscal Fines and Sanctions against Spain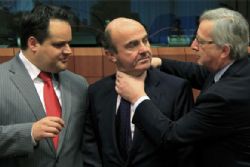 The European Commission has recommended to drop fiscal fines and sanctions against Spain for failing to meet agreed budget deficit targets.
Portugal, also in the fray for failing to meet deficit obligations under EU rules, will also escape any fines or sanctions, however, EU funding to both countries could be frozen if they don't follow recommendations set out by the EU.
Good news for Spain and Portugal, however the move has demonstrated the lack of political will within the EU to come down heavily on member nations that break fiscal rules and is likely to draw criticism for failing to reign in nations over fiscal policy.
Eurozone governments can contest the commission's recommendation within 10 days. If they do nothing, the zero fine will apply.
Strict EU budget rules mean deficits must not exceed 3% of GDP and debts shouldn't be more than 60% - Spain's budget deficit stood at 5.1% of GDP with government debt at 99.6% of GDP in 2015.
As such, a maximum fine of 0.2% of GDP, around €2bn, could have been levied by the commission against Spain.
EU economic commissioner, Pierre Moscovici, said fines would have been "counterproductive for the Spanish and Portuguese economies at a time when people are questioning Europe."
Public support for the EU is waning, whilst populism and anti-EU sentiment is increasing rapidly across the 28 nation bloc, illustrated by the UK's decision to leave the EU. Political parties in France, Germany, Italy and the Netherlands are eager to have their own EU referendums also.
Spain has failed to meet its deficit targets every year since 2013 and looks likely to miss the mark in 2016 also.
The EU Commission also felt any fiscal punishment could hinder Spain's ability to form a government following TWO inconclusive general elections. Spain hasn't had a government since December 2015.