Damaged UK Nuclear Submarine Leaves Gibraltar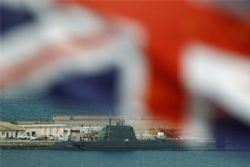 A damaged British nuclear submarine moored in Gibraltar, on Friday, left the UK overseas territory.
HMS Ambush was involved in a collision with a merchant vessel on 20th July in international waters just off the coast of Gibraltar and was forced to dock in the navy port.
Environmental groups and politicians across Spain were quick to seize the opportunity and demand answers as well as the removal of the vessel from Gibraltar.
Despite still having damage to its conning tower, the Ministry of Defence said the vessel was "absolutely safe to go to sea".
Gibraltar has long been a flash point for diplomatic protests, especially when nuclear submarines visit the tiny overseas UK territory, despite there being several Spanish nuclear submarine ports across Spain as well as a US navy base further along the coastline which frequently receives nuclear submarines.
There were serious concerns of another diplomatic row between London and Madrid over the incident. True to form, concerned Madrid, demanded an urgent explanation to the extent of the damage.
The British Navy responded by saying there were no safety concerns since the collision had not damaged the onboard nuclear plant.
The MoD gave no information about the intended destination of HMS Ambush.