Costa Brava Flashmob Prank Sparks Terror Attack Panic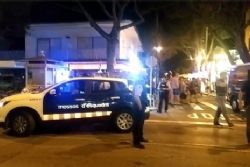 A seemingly innocent flashmob prank on Tuesday evening in the Catalan beach resort of Platja d'Aro sparked panic amongst holidaymakers believing they were caught up in a terrorist attack.
The incident happened around 10pm last night in an area of packed restaurants and tourists.
The stunt, organised by a group of German women, was intended to be light hearted and supposedly to stage a celebrity sighting.
However, the flashmob burst onto the scene screaming and shouting as well as carrying what people thought were guns. Believing they were witnessing a terrorist attack, the ensuing panic caused a stampede as tourist ran for cover or cowered under tables.
Around 11 people were injured and one man suffered a heart attack.
It later emerged the flashmob were carrying tripods, not guns, posing as paparazzi for the celebrity sighting stunt.
Witnesses took to social media commenting on their experiences and detailing what they were seeing.
Police also took to Twitter, explaining the incident was a false alarm and called for calm in the aftermath.
Catalonia regional president Carles Puigdemont slammed the stunt in a tweet saying "There are jokes which are not permissible".
Five German tourists, all women in their early 20's, were arrested and will appear in court on Wednesday on public disorder charges.
The flashmob incident has demonstrated the general fear, but also sensitivity, people are experiencing across Europe following a succession of terrorist attacks in France and Germany.
Spain has been on terrorist threat level FOUR for some time, meaning a terrorist attack is highly likely. Threat level FIVE, the highest there is, means an imminent attack would occur. Threat level FIVE also means the military and special armed forces policing the streets.
Speaking to local radio, Pep Sole from the Platja d'Aro town council said that the Germans could expect to be punished for their stunt. Adding "My intention and that of the municipal majority, is that there will be repercussions, so that they understand they must not do that again".