Spain's conservatives to vote on pact with Ciudadanos Aug. 17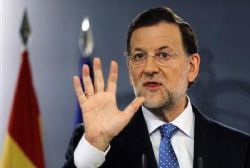 Spain's acting PM Mariano Rajoy said on Wednesday his conservative party's leadership would next week vote on whether to agree to reforms demanded by liberals Ciudadanos ("Citizens") as a condition to form a government.
Rajoy told a news conference his Partido Popular executive committee would meet on Aug. 17 and vote on whether to back a 6-point political reform package requested by Ciudadanos.
has opened the door to supporting Rajoy as prime minister as a result, after more than 7 months of stalemate caused by two inconclusive elections, though the PP would still need backing from the Socialists to form a stable government.
"The PP will do everything in its power to open up negotiations with Ciudadanos. We need a new government as soon as possible," said Rajoy. "These reforms (demanded by Cuidadanos) are significant, some affect the constitution, and we have to study what the consequence would be."
Recommended Reading :
* Spain faces spectre of third election as parties lock horns
* Spanish PM ready to negotiate 125 points with opposition leaders