Spainís under-25 prison population increases by 11% over the last year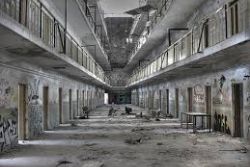 The number of young people being held in Spanish prisons has increased by 11% over the last year. In June of 2015, there were 5,843 persons aged between 18 and 25, a figure that has risen to 6,486, according to the latest figures released by the countryís prison administration, the SGIP.
Some 61,500 people were being held at the end of June, a 6% fall on the same month in 2015. Of these, 28% were foreigners, although that figure has fallen by 9% during the same period. The majority of Spainís prison population (92%) are men aged between 41 and 61.
The prison population fell overall throughout Spainís regions, except for Aragůn, where it rose by 0.2%. The biggest drop was in Catalonia, by 24.2%, ahead of Navarra, (-17.8%) and Extremadura (-10.6%). In the Spanish exclave of Melilla, the number of prisoners rose by 13%.
The region with the largest prison population is Andalusia, with 14,288 people behind bars. Catalonia has 8,789, and Madrid 8,121. The ranking has remained stable for the last decade.
One in 10 prisoners are serving a sentence for theft and fraud, with almost 11,500 behind bars for drug trafficking, while 3,876 are in jail for murder, and around 4,000 for offenses related to gender-specific violence.
Figures show that around 55% of Spanish prisoners reoffend and end up back in jail.
Experts complain of a lack of coordination between the various systems that come into play: the judiciary, the penitentiary and the social services. Adding to the difficulty are the different levels of authority involved: state, regional and municipal.