Arrest after man attempts to hail plane on Spanish runway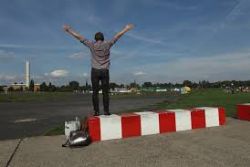 Spanish police have arrested a man who they say ran onto the tarmac at Madrid's Barajas airport to catch a Ryanair flight to the Canary Islands after he missed his last call to board the plane.
A spokesman for the Spanish airport authority said the man was arrested on arrival in the Canary Islands on Friday.
It was reported that the passenger passed through security to the boarding area with a ticket for the flight but failed to board correctly.
He broke through fire escape doors and into an unused passenger tunnel, then jumped from there down to the tarmac with his bags. A video posted on Facebook, apparently by airport workers, showed the man running across the tarmac.
It was not clear how he then got onto the plane. Ryanair spokesman Robin Kiely said the incident is a matter for Madrid airport police, since the video relates to a security breach at the airport.
Police did not identify the man and a police spokeswoman said he would most likely be fined.
The officials spoke on condition of anonymity as neither was authorised to talk to the press.
Recommended Reading :
* Spain welcomed 12 Mln tourists in Q1
* Spain maintains level 4 terror alert after Brussels blast