64% of Spaniards overweight : Study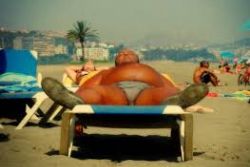 Nearly 64% of Spaniards should lose some weight, according to a new nutrition study called ANIBES.
According to the scientific report's parameters, only 36.1% of Spaniards ages 18 through 64 are in optimal shape, with a Body Mass Index (BMI) of under 25 and a waist-to-height ratio of under 0.5.
This latter measurement "is a better tool for early detection of risk," says Rosa Ortega, a professor of nutrition at Madrid's Complutense University.
If only the BMI had been taken into account, the percentage of Spaniards in good shape would be 10 points higher, according to the study, which was coordinated by the Spanish Nutrition Foundation and published by BioMed Research International.
Men fared worse, with only 28.9% within the healthy parameters compared with 42.7% of women. Age also plays a role: only one out of every five Spaniards above 40 years of age has no need to be afraid of the weighing scale.
The figures confirm a trend showing that Spaniards have been steadily putting on weight for the last three decades.
In 2002, another study found that around 15% were obese. The latest numbers, which date from 2013, find that 26% of Spaniards are obese using the BMI index alone.
Recommended Reading :
* Spaniards among lowest spenders on fast food in Europe
* McDonalds bow to Spanish consumer pressure