No sign of closure for Murcia's San Javier Airport ?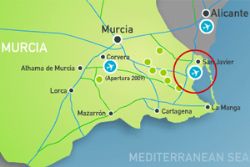 "Will Murcia's San Javier Airport ever actually close, in order to allow the new Corvera Airport to be brought into full operation ?" : The question that has been bounced around by many Murcianos for many a year now.
It seems to be a case of the struggle between the immovable object and the unstoppable force : On one hand the regional government is insistent on issuing press releases stating how the facility is only months away from opening. On the other, the National Airports Authority (AENA) seems happy to take every opportunity to show their full and long-term commitment to the older Airport.
A case in point : Earlier this week AENA announced the launch of 500 discounted parking spaces outside of the terminal building at San Javier Airport. The offer applies when booked by App, and comes with a further 10% discount from Costa Coffee within the terminal building.
Full marks for promotion and marketing Sr AENA, but how about sending a firm and reliable message to the future Air passengers arriving / departing from Murcia ? : Are you committed to actually closing San Javier in favour of Corvera Airport or not ? – And if not, have you actually communicated this intent to the Regional Government ?.
Recommended Reading :
* Murcia's San Javier Airport numbers down for 8th consecutive year
* Further investment in Murcia's San Javier Airport