'Christianophobia' attack on missionary in Spain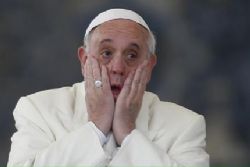 A Franciscan missionary was attacked by an Arab man in Spain last week, and he attributes it to Christianophobia, describing it as ideological and a show of hatred for Christians.
According to a Brietbart report, the attacker attempted to steal the missionary's wooden cross which has no material value and made threats to his life.
The attack took place while Friar Job de Jesus was in a terrace of a bar in Cartagena, Spain. The Arab man approached de Jesus and tried to snatch the wooden cross he was wearing. The missionary was able to stop his assailant and walk away, avoiding the punch the man threw at him.
The man pursued the friar while shouting, "Bastard, bastard, I'll kill you" and tried to slash him with a broken glass. Sources said that the man told the friar, "You are Spanish. You need to be afraid of me. I am an Arab." A waiter who tried to help the friar was also attacked; the man smashed a bottle against his head.
Two customers inside the bar apprehended the assailant, but the man eventually got away.
Christian Today reports that police are now hunting for the Moroccan man, said to be 35 years of age and was drunk during the attack.
Sociologist George Yancey, author of "So Many Christian, So Few Lions," defined Christianophobia in a 2015 article for Christianity Today. He wrote, "In the United States, hateful bigotry is directed not only toward groups such as racial and sexual minorities, but also toward conservative Christians. The survey comments evidence that some of the anti-Christian animosity veers into unreasonable hatred and fear. It's Christianophobia."
The "fear" part of this definition of Christianophobia, Yancey said, was from a survey of respondents who viewed conservative Christians as possible dictators of the Christian rule.
Recommended Reading :
* Moroccans 'largest victims of Islamophobia in Spain'
* Muslims demand 'right of return' to Spain