A Spotlight on Brexit and Visas for Worried Expats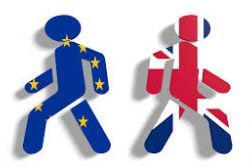 Continuing her tour of European capitals, new British PM Theresa May delivered press conferences in Bratislava and Warsaw. Her trip across the continent has continued to stir the immigration debate pot. Former European partners want to be strict with European Economic Area (EEA) membership, bringing the UK back into the freedom of movement with no means to mitigate it. The new cabinet will have to deal with the popular public opinion that the UK demands a significant decrease in immigration.
This is understandable, but there are people stuck in the middle. EU citizens living in the UK, and UK citizens across Europe, are existing in a post-Brexit limbo. May has refused to comment on the futures of EU citizens in the UK, giving no guarantee that they will be welcome to stay. However, a cross-party group of MPs have passed a motion to oppose this, and the pressure from politicians in the UK and Europe will likely prove too great. Inevitably there is a possibility that the deportation of longstanding EU citizens from the UK will be met by a similar backlash against British expats in EU countries.
Whatever happens in regards to citizens leaving, the biggest impact will be on those coming to stay. Thanks to the ease of hiring low-skilled EU workers, the current British visa scheme has no structure for accepting non-EU citizens for jobs with a salary lower than £25,000 or below £35,000 for skilled workers with experience.
The British visa system has always needed change, with entrepreneur visas earmarked for special treatment. On the whole, graduate entrepreneur visas have been largely successful. However, fewer than 12% of the 13,746 Tier 1 Entrepreneur visas granted since 2008 have culminated in successful companies.
Many have suggested there is scope for a special London visa to help ease the burden on one of the world's financial powerhouses. But, the effect on the rest of the country could be catastrophic. Others have suggested the introduction of 'angel investor' visas. These would allow wealthy investors to financially back an immigrant's idea or business.
Visas aside, there are many suggestions being touted in regards to the UK's future. Australia is a country keen to discuss conciliatory trade deals. However, the problems that UK businesses and residents will face have yet to come to a head and it remains to be seen the extent of what they will be dealing with. Both the UK and the EU essentially want to save face, securing the best deal to present to the public while retaining as many advantages of the Union as possible.
Despite the nationalist bluster, the UK still remains an important economic figure and trading hub. All things considered, the preservation of the EEA and its accompanying immigration policies looks a distinct possibility.
Recommended Reading :
* What does the Brexit mean for Expats in/from the UK and EU ?
* Brexit would make Expat Pensioners £50,000 poorer