Spain's Socialists Against Rajoy as Prime Minister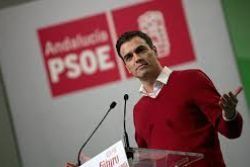 Spanish Socialist Workers' Party (PSOE) leader Pedro Sanchez said on Wednesday that his party would not support acting PM Mariano Rajoy as the head of government.
"There can be democratic changes in Spain only if Rajoy stops being the prime minister," Sanchez told reporters, adding that the acting prime minister "did blackmail" instead of dialogue.
In June, Spain's center-right PP, headed by Rajoy won the most seats in the parliamentary election, with PSOE finishing second. None of the political forces has an absolute majority and thus cannot form a government on their own. Following the elections, Rajoy initiated negotiations to form a government, but they have yielded little results.
In July, King of Spain Felipe VI, following consultations with political parties on the issue of forming a new government, suggested Rajoy put forward his candidacy for the post of the country's prime minister, which was considered by Rajoy.
However, he pledged to continue talks with major Spanish forces as he stands against holding a new round of parliamentary elections in Spain. Earlier this year, Rajoy met Sanchez to present the government program for the next four years, which he believed would help reach a consensus, but the PSOE leader has categorically refused to support Rajoy's attempts to form a government.
Recommended Reading :
* Spain's Socialists say will vote against PP re-election
* Spain's regional parties call on Socialists to lead a coalition