Spain's Rajoy to face confidence vote in week of August 30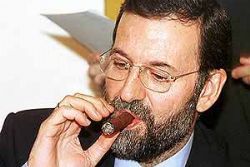 Spain's lower house of parliament will begin to discuss acting Prime Minister Mariano Rajoy's bid for a second term in office on Aug. 30, the house speaker said on Thursday, meaning he will likely face a confidence vote the following day.
The Spanish parliament usually stages a debate to invest a prime minister before holding a vote on their plan for a government the next day.
If the candidate fails to secure an absolute majority on the floor of the 350-seat lower house - at least 176 votes - then a second vote is held 48 hours later. At the second vote, the candidate only needs a simple majority of votes cast.
Recommended Reading :
* Spain's Rajoy drags out suspense on Government talks
* Reform deal in sight to break Spain's political deadlock