Ibiza flight delayed after 'police officer's gun accidentally goes off'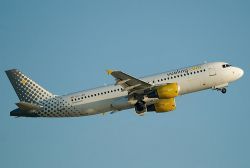 A flight was delayed in Ibiza after a police officer's gun accidentally fired.
The Vueling plane was waiting to take-off from Spain's Madrid-Barajas Airport when the incident happened on Saturday.
A National Police agent was handing his gun to the captain, as protocol dictates, when the weapon fired, according to Ultimahora.es.
Luckily the bullet hit his luggage, where the gun had been stored.
The officer had also moved away from other passengers in order to remove the weapon.
The accidental discharge meant Flight VY3420 had to be delayed for half an hour as engineers checked to see if the plane had been damaged.
The flight continued its journey to Madrid once the pilot had been given the OK to fly.
Vueling said in a statement: 'It was a minor incident without further consequences neither for the passengers and crew nor for the plane. The Police Officers follow the security procedures.
Recommended Reading :
* 25 Million passengers flew to Spain in July
* Spain expects 6th record year for Tourism