Gibraltar signs LNG deal with Shell to combat electricity shortages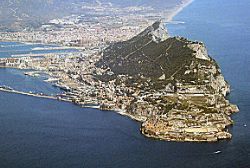 Gibraltar has found a solution to one of its biggest problems: electricity outages. On Friday, the government of the British Overseas Territory signed a 30-year deal with Shell that includes the construction of a small regasification unit that will receive, store and re-gasify the LNG arriving by ship for use in Gibraltar's adjacent gas-fired power plant, which is already under construction.
"My government is delighted with this major step forward in the provision of LNG, the best option for an environmentally friendly and safe solution for guaranteed power generation," said Gibraltar's Chief Minister Fabian Picardo in a statement.
The project is expected to come online in the second half of 2017, when the new power plant is completed.
LNG is natural gas that has been transformed into a liquid state by freezing it to -162ºC, reducing it to 600 times its normal condition, and making it easy to transport by ship.
The regasification unit will be run by Shell affiliate Gasnor. The power plant adjacent to the gasification unit will be fitted with five steel storage tanks where the gas will gradually be warmed up using heat produced on site.
"The small-scale carrier will transfer LNG to the storage tanks through a loading arm that is equipped with an emergency release system, which reduces the risk of spills significantly and increases the security of the operation. The LNG transfer will be performed about twice a month, and at night when port and airport activities are minimal, further increasing the safety," said Shell in a statement.
Gibraltar sits alongside one of the world's busiest shipping lanes: around 110,000 vessels traveling between south-east Asia, China and the Middle East and the Atlantic coastline of Europe, Africa, and the United States pass through, while around half of the world's trade, a third of its oil and gas, and 80% of the goods and gas consumed by the EU all move through this 100-kilometer maritime corridor. Around half the gas required by Spain, and a large part of its oil, arrives at the country's refineries via the Strait of Gibraltar. The largest, Cepsa's San Roque refinery, is located in the Bay of Algeciras.
Around 300 large vessels – not including leisure craft – pass through these waters each day, along with those that anchor here to refuel via bunkering services based in Gibraltar. The Spanish authorities have complained to the EU about the environmental risk posed by this business, which involves around seven million tons of fuel a year.
"Sooner or later ships will stop using diesel, and LNG is one of the most likely options to replace it. Gibraltar doesn't want to lose its position as a leader in bunkering, which is what this LNG plant is about," says Antonio Muñoz of Spain-based environmental group Verdemar.
At present, Gibraltar's electricity comes from the Waterport oil-powered plant. In recent years it has proved unable to meet The Rock's energy needs, which has led to blackouts lasting up to seven hours at a time. When fire broke out at Waterport in April 2014, servers used by the many online gambling companies based there crashed.
To deal with these energy problems, in June Israeli company Eco Wave Power (EWP) inaugurated the first ever grid-connected wave power station in Europe on Gibraltar, which aims to produce 15% of its electricity. The LNG plant aims to provide a definitive solution to energy supplies for an economy based on tourism, online gambling, financial services and shipping.
Muñoz says that while Shell is a pioneer in handling LNG, risks remain: "To handle LNG requires a lot of security and safety measures, and even more so in this case where the idea is to store it near to population centers and in the same place where British Royal Navy vessels dock." Muñoz says his organization has called on Spain to connect Gibraltar to its national grid and supply it with electricity.
Recommended Reading :
* Damaged UK Nuclear Submarine leaves Gibraltar
* British Foreign Secretary reassures Gibraltar over its future