PP accepts Ciudadanos' demand for further-reaching corruption measures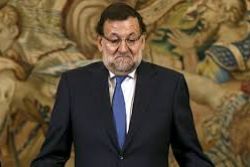 The conservative Popular Party (PP) has accepted a proposal from emerging center-right group Ciudadanos to implement measures that would see the suspension of public officials from all levels of Spain's administrations who have been named as suspects in corruption cases. The agreement comes as part of ongoing negotiations between the two parties aimed at garnering Ciudadanos' support for the acting PP prime minister, Mariano Rajoy, at an upcoming investiture vote.
"There are discrepancies over when this [measure] should be implemented, but not about who it should affect," the PP deputy secretary for organization, Fernando Martínez-Maillo, announced on Wednesday after the fourth day of talks concluded. Both parties, what's more, agree that other groups should be invited to sign up to the anti-corruption pact.
The discussions are taking place after the PP agreed to a six-point plan laid out by Ciudadanos as a precursor to them lending their support for Rajoy at an upcoming investiture debate. The PP won the most votes at the two recent inconclusive general elections (in December and June), but fell well short of the majority needed to form a government. As things stand, even with the support of Ciudadanos Rajoy will not win the first investiture vote, at which an absolute majority of 174 seats is needed. But if he secures abstentions in the second round he could win thanks to a simple majority (more yes votes than no).
If he is unsuccessful in his bid, a third general election is likely to be called for December 25.
But with a week to go until the investiture debate begins, the negotiations between Ciudadanos and the PP have "stalled," according to general vice-secretary of Ciudadanos, José Manuel Villegas, given that the parties cannot agree on the cost of the measures they have so far set out in their talks. "To sign [a deal] we are going to demand figures, that there be a commitment in terms of spending and time," Villegas stated Wednesday. "We are not going to sign mere declarations of intent." According to the party's number-two leader, after Albert Rivera, this is the "biggest problem on the table."
Rivera's party is demanding specifics when it comes to their social spending action plan, which includes measures such as a supplement for those on low salaries, a plan to combat child poverty, increased paternity and maternity leave, and greater education for children under the age of three.
"If the government believes it doesn't have any money, we are going to tell it where it can find it," stated Villegas. "It can do away with the provincial governments, for example, or demand the money that tax fraudsters stopped paying."
The closure of provincial administrations – which are seen by many as an unnecessary layer of government – as well as the Senate were measures included in Ciudadanos' election manifesto and are due to be discussed further by the two parties on Wednesday afternoon.
However, Rivera's party is prepared to seek intermediary formulas, such as lower budgets or fewer senior officials. Ciudadanos is also calling for the government to go after €2.8 billion from tax evaders that, in its opinion, was "forgiven" among those who benefited from the government's so-called "tax amnesty" in 2012. The party argues that the nearly 31,500 people who signed up to the process paid less than they should after the government allowed them to pay just a 3% fine on the undeclared assets instead of the 10% originally planned in the law.
The PP, meanwhile, is refusing to adopt any measure that would affect their efforts to bring down the public deficit and denies that there was ever an amnesty. "There was no fiscal amnesty in Spain, but rather a regularization," argued Maillo. "That regularization represented income of €1.2 billion." The PP believes that it will be hard to agree on spending if Ciudadanos is unwilling to discuss the State Budget.
According to Maillo, the two parties have agreed on around 100 measures covering "the economy, employment, pensions, health, social policies and education," and that the list of issues yet to be discussed will be the most complicated, including a single work contract, taxes for the self-employed, the fight against fraud and work-life balance.
Recommended Reading :
* Scandals force PP to negotiate corruption points with Ciudadanos
* Spain's Conservatives to vote on pact with Ciudadanos