Twitter Spain launches Rajoy emoji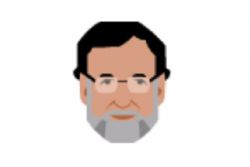 While there is no grand party pact in sight ahead of the upcoming investiture debate in Congress, at which acting Popular Party Prime Minister Mariano Rajoy will be seeking to be voted back in as Spain's leader, Twitter has come up with a novel way for its users to post messages about the parliamentary process.
Anyone who tweets a message on the popular micro-blogging site with the hashtag #InvestiduraRajoy between August 29 and September 2 will see an emoticon of Rajoy himself.
"Follow events live with the #investiduraRajoy emoji"
As it has done with other significant events, such as the Olympic Games, political campaigns and major movie events, Twitter has launched this new emoji to encourage the conversation on the social network with regard to the investiture process, which starts today, August 30.
"Creativity, image and the chance to express yourself in a more visual and fun way are very important elements in terms of the evolution of the platform," the company explains via a statement. Twitter users did not wait long to start using the hashtag, although it was mostly employed for jokes about the appearance of the emoji itself rather than the burning political issues of the day. Before long it was in the trending topic list of most-talked-about subjects in Spain on Twitter.
As a form of expression and political communication, emojis have been a constant on Twitter, above all during the last year, when Spain has held two general elections. For example, during the vote on June 26 emoticons representing each political party appeared, while on December 20, 2015, a special emoji was created to accompany the hashtag #HeVotado (I have voted).
Recommended Reading :
* Socialists to propose law change in bid to avoid Christmas day elections
* Socialist party assumes Rajoy will fail in bid to form Government