No is no, Socialist nominee tells Spanish PM at brief meeting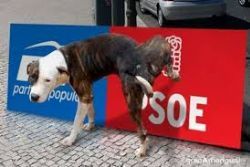 Spanish acting PM Mariano Rajoy met with Socialist candidate Pedro Sánchez for half-an-hour on Monday, in a fruitless effort to convince his rival to abstain at an upcoming congressional vote to choose Spain's new leader.
As expected, Sánchez reiterated that the Socialist Party (PSOE)'s 85 deputies will vote against the Popular Party (PP) candidate at the investiture debate, which begins on Tuesday.
The fact that the PP recently reached a deal with the emerging Ciudadanos, whose 32 representatives will support Rajoy's reinstatement bid, has not swayed Sánchez. The PP, Ciudadanos and the Canaries Coalition together represent 170 out of the 176 seats required for a congressional majority. Only an abstention from other parties, if not outright support, can deliver the prime minister's position to Rajoy.
"The agreement is conservative and preserves the status quo," said Sánchez on Monday following his brief meeting with the interim prime minister. "If we already had reasons to vote against [Rajoy], after his agreement with [Ciudadanos leader Albert] Rivera we have even more reasons."
Sánchez is being pressured to abstain in order to let Rajoy form a government and pull Spain out of an eight-month stalemate that already includes two inconclusive general elections. Rajoy earned 123 deputies in December and 137 in the fresh election held on June 26, twice falling short of the 176-seat threshold.
Even some Socialist voices have said that Sánchez should allow Rajoy to win the investiture vote so that Spaniards do not have to face the prospect of a third general election, which would take place on Christmas Day.
But the Socialist contender, who himself made an unsuccessful investiture bid in February of this year, says that he will not be supporting other candidates, and will not take the blame for a new election, either.
"The responsibility for Mr Rajoy's failure will be exclusively Mr Rajoy's due to his inability to articulate a majority," said Sánchez on Monday.
Meanwhile, Rajoy said that he will keep trying to convince the Socialists to support him one way or another.
"I will go to the investiture vote with 170 votes," he said following his meeting with Sánchez. "As we all know, we need 6 more votes in favor or 11 abstentions. I will keep trying with the PSOE, which holds the key. I will keep trying because it's my obligation. We urgently need to form a government because we are in an anomalous situation that is starting to undermine our credibility as a country. Spain needs a government, and that government has to be headed by the PP, which has 52 more seats than the second most-voted political force."
Rajoy also told the Socialists that "unblocking [the stalemate] does not constitute support, but simply allows something as reasonable as letting Spain have a government."
Recommended Reading :
* Spain's Socialists say no to Rajoy, prolonging political deadlock
* Spain starts countdown to possible third national election in year