Spain closer to third election in a year as confidence vote looms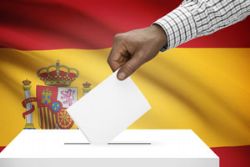 Spain's lack of a functioning government since inconclusive elections in June and December and the resulting political deadlock have stalled investment and there are signs it could be starting to limit a strong economic recovery.
PM Mariano Rajoy needs the support of the Socialists, which have trailed his centre-right People's Party (PP) in both elections, to reach a majority and form a government.
"I will be very clear, the Socialist party will vote against your candidacy to the government in order to be coherent and for the good of Spain," Socialist leader Pedro Sanchez told parliament on Wednesday.
The PP is six seats short of the absolute majority of 176 seats it needs in the first investiture vote, even with the support of liberal party Ciudadanos, which was agreed on Sunday, and with one extra seat from a minor Canary Islands party.
If Rajoy loses Wednesday's vote, a second vote will take place on Friday in which delegates can abstain and a simple majority would suffice to allow him to form a PP-led minority government. He would need just 11 abstentions to win this second vote, but a loss is also likely if the Socialists do not cede.
"Given the situation we are in, after two elections and the threat of a third election which you seem to want, I ask you to abstain," Rajoy told parliament on Wednesday.
"We can't keep on having election after election until there is an outcome for a government that Mr Sanchez likes."
Sanchez has already said his party will not abstain in the second vote and a second loss for Rajoy would give him two months to form a government at the end of which another election would be called, possibly on Christmas Day.
Sanchez says Rajoy, a party stalwart since the late 1980s, is too tarnished by a long series of corruption scandals involving the PP to oversee the "regeneration" of Spanish politics that he has demanded. Corruption continues to rank as one of Spaniards' biggest concerns.
"The problem is that you are not a trustworthy person," Sanchez said during a marathon series of speeches by party leaders.
Rajoy told parliament he wanted to form a government with broad support that would be able to safeguard Spain's economic recovery, with growth rates now among the highest in the euro zone, and play a leading role in the European Union.
There are some signs that the eight months of uncertainty are starting to have an impact on the economy. Investment in infrastructure dropped sharply in the second quarter and economists say growth rates could be several percentage points higher if there was a properly functioning government.
If Rajoy loses in both votes this week, the focus will shift to regional elections on Sept. 25 in the Basque Country and Galicia where the Socialists hope to avoid a further erosion of support.
Recommended Reading :
* Twitter Spain launches Rajoy Emoji
* 'No is No', Socialist nominee tells Spanish PM