Spain Registers Record-Breaking 9.6 Million Foreign Tourists in July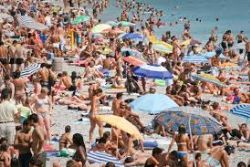 The tourism drain from destinations such as Greece, Egypt and Turkey seems to have benefited Spain as foreign tourists flocked to the Peninsula, which has remained largely unscathed by recent security threats.
In July, Spain welcomed 9.6 million foreign tourists, the largest number on record for this month and a 9.3% increase on the July 2015's 8.8 million figure, according to the Spanish Statistics Office's (INE).
During the first 7 months of 2016, the number of tourists who visited Spain increased by 11.1% to a record breaking total of 42.4 million.
Nearly 1 in 4 tourists in July hailed from the UK with 2,197,808 visitors, representing 23% of total entries.
The region of Catalonia was Spain's leading tourist destination representing a 25.3% share of visitors, of which a majority was French and British.
The Balearic Islands and Andalusia were the next most popular destinations with a visitor share of 24.7% and 12.7% respectively.
The Balearic islands received nearly 2.4 million visitors, of which around a third were British and a third were German.
Of the 42.3 million tourists that came to Spain during the first 7 months of 2015, 34.6 million arrived by plane.
A grand total of 3.1 million tourists opted for package holidays in Spain but, in line, with historic trends, the majority – 6.5 million – traveled without a tour operator.
Recommended Reading :
* Spain sees Tourist spend per head at 15 year low
* Spain expects 6th record year for Tourism