New UK pro-EU group rejects Spain's joint sovereignty bid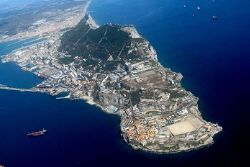 A new pro-EU campaign group has included specific references to Gibraltar and its right to self-determination in a 27-page document outlining its stance on key issues in the run-up to Brexit talks.
The report, Stronger With Europe, is the first attempt by the group to sketch out what policies Britain should adopt as it negotiates its exit from the EU.
It includes a firm rejection of Spain's "unacceptable" attempt to link Brexit to its joint sovereignty agenda.
Open Britain has taken over in the UK from the official Remain campaign Stronger In and will be championing a soft exit from the EU.
The local Stronger In campaign, which was headed by lawyer Gemma Vasquez, is already building links with the UK group to ensure Gibraltar's views are reflected in its work.
"We are looking to work quite closely with Open Britain but we are still working out the details of what shape that relationship will take," Mrs Vasquez told the Chronicle.
From the outset, Open Britain has backed Gibraltar's position in a very significant way in its first report, which analyses key issues including the single market and migration.
It makes clear, for example, that all references to the UK also include Gibraltar, except in relation to the Customs Union which Gibraltar is not part of.
But most significantly, the paper makes explicit references to sovereignty and self-determination in a section titled ""Rejecting joint sovereignty proposals for Gibraltar".
"Given its overwhelming vote to remain within the EU, Gibraltar's Constitution, its self-government and right of self-determination must remain protected as must its freely determined choice to remain British," the Open Britain paper states.
"The outcome of the referendum runs contrary to the economic model which Gibraltar has followed and which has made it economically self-sufficient."
"Benefits from EU funding and those that arise from the UK's place within the Single Market must be preserved. There must be a level playing field on which to prosper." "Only the Gibraltarian people will determine Gibraltar's future, as they did in the 2002 referendum."
"Nothing should be done in the negotiations that leads the Gibraltarian people to be placed under political and economic pressures, or which could make the people of Gibraltar feel their future cannot be fully and viably retained with the United Kingdom because of the scale of the disadvantages from leaving the EU."
"Spain's offers of joint sovereignty are unacceptable and should be fully and formally rejected by the UK, as they have been by the Gibraltarians."
"Gibraltar should be fully involved in and represented at all negotiations which the UK carries out with the EU, to ensure its position within the EU is fully protected.
Recommended Reading :
* Gibraltar LNG deal with Shell to combat Electricity shortgages
* British Foreign Secretary reassure Gibraltar over it's future