Spain's King Felipe to hold off on further round of political talks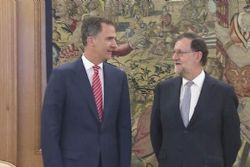 Spain's King Felipe, who acts as a formal broker between political parties, will not hold a fresh round of consultations with leaders for now after a failed attempt to form a new government, the speaker of parliament said on Monday.
Acting PM Mariano Rajoy, the leader of Spain's centre-right People's Party (PP) lost two parliamentary confidence votes last week in his bid for a 2nd term, opening up a two-month countdown to form an administration.
After that point another election - Spain's third in a year - would have to be called. All political parties fell short of a majority in a June election, forcing them to try and come to terms.
"The king has told me that there will not be for now a new round of talks with parties," Ana Pastor, the speaker of Spain's lower house of parliament, told a news conference.
Recommended Reading :
* Spain's acting PM Rajoy loses 2nd parliamentary vote of confidence
* What happens if Mariano Rajoy does not get reinstated ?