Spain rescues 177 migrants off southern coast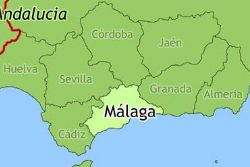 Spanish authorities said on Tuesday they had rescued 177 migrants from sub-Saharan Africa on six boats off the southern Mediterranean coast.
Spain's maritime rescue service said it had spotted some of the boats by airplane. It sent ships to carry out the rescues at various points on the country's southern shore, including near Malaga. There were 8 minors among those rescued, it added.
In 2015, 3,845 migrants entered Spain via sea crossings, according to the International Organization for Migration, a tiny fraction of the 956,000 that reached Europe the same way.
Other boats have been intercepted recently off Spain, including when some 50 migrants were rescued in August, some of whom had attempted to cross from Morocco's northern coast.
Recommended Reading :
* New refugees arrive in Spain under EU quotas
* Telefonica unveils portal to help new refugees in Spain