Multimillionaires on the rise in post-crisis Spain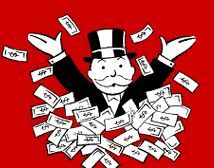 The number of multimillionaires has been growing in Spain for years despite the economic crisis, and the recovery is signaling a new surge in their ranks.
In 2014, 508 people declared assets worth more than €30.05 million, according to data released by the Spanish Tax Agency on Tuesday.
The figures show 8% growth from the previous year, representing 37 new members in the club of the super-rich.
This is greatest rise of any income group, confirming reports by international organizations about an increase in socioeconomic inequality.
Wealth tax statistics also show that taxpayers who declared assets of between €48,000 and €60,000 fell by 18%. It is unclear whether this reduction means that some of them now have fewer assets, or whether they in fact have more and have moved up a tax bracket.
A total of 181,874 people filed wealth tax statements worth a combined €555.5 billion. Most of this combined wealth is accumulated in company stock and shares (€223.9 billion). Another €75 billion is kept in SICAVS, collective investment vehicles popular in Western Europe.
Wealthy Spaniards also admit to having a combined €53.8 billion in their bank accounts. They also possess real estate worth €99.5 billion, as well as billions more in insurance and other assets.
Spanish residents who paid the wealth tax also admitted to owning jewels, fur coats, cars, boats and aircraft worth a combined €602 million. A further €503 million is invested in art and antiques.
Recommended Reading :
* Most Spaniards see more inequality as a result of the crisis : Survey
* The 20 richest spaniards hold as much wealth as the poorest 20%