Corvera Airport : "The Black Hole of Murcia"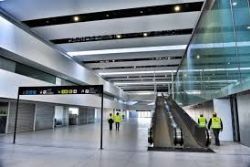 The Podemos spokesman for the Region of Murcia, Oscar Urralburu, has openly criticized the waste of public money over the Corvera Airport project, referring to it as "The Black Hole of Murcia".
Urralburu reminded the Assembly that the facility was still costing the region some EU22,000 per day in 'operating costs' , despite not being 'operational'.
He went on to lament that the failed Airport was the one true legacy of former President Valcarcel, who has been 'rewarded' for this failure with a lucrative position in Brussels.
He also said that if the Regional Government indeed had any plan at all with regards to bringing the Airport into operational, then they should make it known.
Recommended Reading :
* Aeromur retreat from Murcia's Corvera Airport
* No sign of closure for Murcia's San Javier Airport