Euro zone ministers expect Spain to cut deficits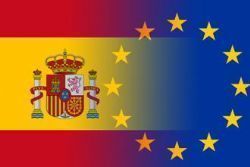 Spain must still tackle their excessive budget gaps even though itescaped being fined in July for breaking EU deficit limits, euro zone finance ministers said on Friday.
"I expect a very brief discussion and especially effective action from our Spanish colleagues," Slovak Finance Minister Peter Kazimir, whose country holds the rotating EU presidency, told reporters on entering a meeting of finance ministers.
At the recommendation of the European Commission, the EU decided not to penalise Madrid for not reducing the deficits to below the EU limit of 3.0% of GDP.
The decision, however, coming after similar leniency for serial deficit-limits offender France last year, has raised fresh doubts whether EU budget rules, sharpened during the recent sovereign debt crisis, can ever be enforced.
But with populist and euro sceptic movements gaining support across Europe and elections in Germany, France, the Netherlands and a referendum in Italy all scheduled for the next 12 months, some officials would like to see the rules relaxed further, rather than enforced more strictly.
The leaders of Greece, France, Italy, Spain, Portugal, Malta and Cyprus meet later in Athens and are expected to push for tight budget rules to be eased.
One of the arguments for scrapping fines was that Spain has been effectively without a government since last December because of two inconclusive parliamentary elections.
Mediocre growth, which could be further damaged by cuts in public spending, was another and the sentiment seemed to be shared by many ministers.
"At a time when we have weak growth one should not throttle that growth through economic sanctions," Austrian Finance Minister Joerg Schelling said.
Under EU rules, Spain and Portugal must take effective action to reduce their excessive budget deficits by October 15, which is also a deadline for presenting to the Commission draft budget plans for 2017 for all euro zone countries.
But since Spain is still run by a caretaker government, which is in no position to make binding budget proposals, the ministers will discuss how the rules could accommodate that.
"We'll discuss the procedural side of things, what should the government do when it's really a caretaker government," the chairman of euro zone finance ministers Jeroen Dijsselbloem told reporters before the meeting.
But he noted Madrid would have to deal with the deficit sooner or later.
"Any new government in Spain will still have to get the budget back on track, independent of the decisions of this summer," he said. "The budgetary problems of Spain haven't evaporated, they are still there but it will be for a new government to pick up on that, get back on track."
Recommended Reading :
* EU drops fiscal fines and sanctions against Spain
* Spain to ask EU for 2 additional years to reduce deficit budget