Third elections would see record abstention, better result for PP : Poll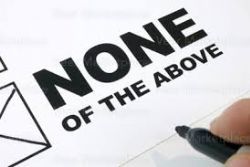 After two back-to-back general elections and a political deadlock lasting nearly nine months, Spanish voters have grown weary of politics.
If a third election were to be held on Christmas Day, as could be the case if a governing deal is not reached soon, turnout would hit a record low of 63%, a new voter intention poll shows.
That would be the greatest abstention level in Spain's entire democratic history.
And it would benefit the Popular Party (PP), which has been at the helm of a caretaker government since the original election of December 20, 2015. After losing its absolute majority that day, support rose to 33% in the fresh election of June 26, and could reach 34.8% if Spaniards are asked to return to the polls a record third time.
A Metroscopia poll for EL PAÍS also shows that the Socialist Party (PSOE) and the emerging Ciudadanos would both lose traction, while the anti-austerity Podemos would achieve the same level of support it garnered in June.
Greater loyalty and motivation among PP voters means that the conservatives could benefit from Spanish politicians' inability to reach alliances for a congressional majority and the formation of a new government.
Rajoy would do even better at the polls if a third election were held.
Despite acting Prime Minister Mariano Rajoy's almost complete inability to attract support from opposition leaders, who say his name is too associated with corruption to make him a credible partner, PP voters do not feel that Rajoy – who refuses to step aside to let another candidate take his place – is in any way to blame for the prolonged deadlock. And they are willing to show it by voting for him again if need be.
By comparison, the Socialists are feeling the effects of months of political erosion, and if new elections were held, support for the PSOE would drop to 21.3% of the vote, compared with 22.7% in June.
Meanwhile, Ciudadanos' efforts to get a new government up and running – first by associating with the Socialists and later with the PP – are not being rewarded by voters. Even though its leader, Albert Rivera, enjoys the highest popularity ratings of any Spanish politician, support for the party itself would drop to 12% from 13%.
And Unidos Podemos, the alliance of Podemos and the Communist Party-led United Left, would come in at 21.1% of the vote, exactly the same figure it obtained in June.
Recommended Reading :
* Spain's King Felipe to hold off on further round of political talks
* Spain's acting PM Rajoy loses 2nd parliamentary vote of confidence