Probability of CCHF virus infection in Spain low: ECDC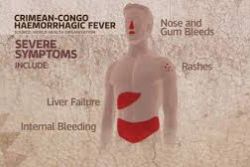 The probability of Crimean-Congo haemorrhagic fever (CCHF) virus infection in Spain is low, the European Centre of Disease Prevention and Control (ECDC) said Monday, days after Spain reported two cases of CCHF virus infection on Aug. 31.
"However, other sporadic cases are possible," ECDC, or the EU agency created to strengthen Europe's defences against infectious diseases, said in a statement.
The risk of further human-to-human transmission in hospital settings can be significantly reduced by applying timely appropriate infection prevention and control measures, the agency said.
According to ECDC, recent detection of CCHF virus in ticks from Extremadura, western Spain indicates the circulation of CCHF virus among wildlife.
The two cases reported on Aug. 31 in Spain are the first autochthonous clinical cases of CCHF in Spain and in southwestern Europe. ECDC has published a rapid risk assessment on the event accordingly.
As a precautionary measure, risk groups should be informed about the mode of transmission and urged to comply with advice on the prevention of tick bites, ECDC said.
Moreover, standard precautions, preferably combined with contact and droplet precautionary measures, should be taken when caring for patients presenting with haemorrhagic fever syndrome, according to the EU agency.
Recommended Reading :
* 200 People under observation in Madrid over Hemorrhagic fever
* Zika Virus : What Travellers need to know