Spanish court to investigate politician from Rajoy's People's Party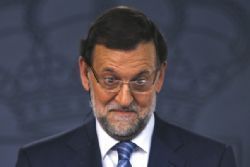 Spain's Supreme Court said on Tuesday it would investigate a prominent figure from the conservative People's Party (PP) for alleged money laundering offences, as politicians struggling to form a government clash over corruption cases.
Rita Barbera had been in the public eye for several months in connection with an investigation into an alleged irregular party financing scheme in the eastern city of Valencia, where she used to be mayor. She denies any wrongdoing.
Now a senator in Spain's upper house of parliament, Barbera - a PP heavyweight praised in the past by party leader and acting PM Mariano Rajoy - has legal protection and can be judged only by Spain's highest court.
Barbera has previously denied involvement in a money laundering scheme and said she would collaborate with local investigations being carried out by the court in Valencia despite not being obliged to.
But the Supreme Court said in a written ruling on Tuesday it was now opening an investigation into some of Barbera's dealings during her 24 years as mayor, after a local judge in Valencia was dissatisfied with her explanations and escalated the case.
Barbera has not yet been named as a formal suspect. In Spain investigating magistrates can look into a case and consider whether to formalize charges, and at a later stage, whether it should go to trial.
The case is likely to raise pressure on her to step down, at a time when the PP and other parties are mired in a political impasse after two inconclusive elections that have left Spain without a new government for over eight months.
The PP in particular has been tarnished by a series of corruption cases, and some rivals have refused to back a second term for Rajoy partly as a result of that. One newcomer party, liberal Ciudadanos ("Citizens"), lent its support to Rajoy in a parliamentary confidence vote in exchange for an anti-corruption pact that envisaged eliminating legal protection for lawmakers.
Rajoy still lost the vote, however, edging Spain towards a third election, possibly in December.
Ciudadanos called on Tuesday for the PP to ask Barbera to resign. Barbera made no public comments on the case.
Spain's acting Justice Minister Rafael Catala, also from the PP, said Barbera had no reason to step down. "This is the first part of a legal process. It is not enough to be demanding any political responsibility," he told journalists.
Recommended Reading :
* Scandals force PP to negotiate anti-corruption points with Ciudadanos
* Rajoy : "There is no such thing as generalized corruption in Spain"