Banco Popular To Shed 3000 Jobs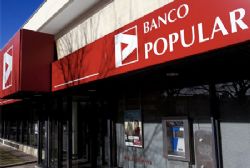 Spain's SEVENTH largest bank by market capitalisation has revealed it will axe 3,000 jobs as part of a cost cutting plan.
The troubled bank has struggled following a decade long property boom which culminated in a bust and the catastrophic global financial crisis of 2008.
Saddled with a huge portfolio of repossessed properties and bad debts, the bank saw a glimmer of hope in June after raising more than €2.5bn through issuing shares intended to help balance the books. However, a month later in July, the bank announced a cost cutting plan. Branches would be closed and jobs we be axed.
The revelation of how many jobs Banco Popular intends to cut is indicative of the strides Spanish banks are making to gain market traction and improve earnings as its home market contracts.
Not alone in the endeavour, Spanish bank Santander, Europe's largest bank by market capitalisation is set to close around 450 branches and make 1,400 redundancies, 5% of its work force.
CaixaBank, Spain's third-largest bank is also planning to cut its workforce by 3,000, although it says most of which will be through early retirement.
These announcements will add an additional 7,400 extra unemployed individuals to the already high unemployment figures of more than 20% Surprisingly, GDP figures for Spain indicate the economy is doing well and continuing to grow and often cited as a model for the rest of Europe, even the world.
However, recent deficit, national debt, PMI and unemployment figures suggest things are not quite as good as others would like to claim.