Spain's regional rift makes third election more likely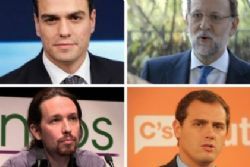 At the back of a council building in the Spanish town of Guernica, people take photos of each other in front of an oak sapling, a direct descendent of sacred trees under whose branches village elders held assemblies in medieval times.
This oak, which still plays an important role in the swearing-in ceremony for the regional head, is revered as a symbol of the independent spirit of the Basque people, just over two million of whom live in this mountainous northern part of Spain.
"I don't feel Spanish, I've never felt Spanish. Since I was a little girl I've felt Basque and that's it," says Maddalen Txakartegi, a 33-year-old doctor standing chatting with friends at a market nearby.
Despite the identity rift, many had hoped regional parties from the Basque Country and Catalonia would help unblock a nine-month national political stalemate by furnishing parliamentary seats needed to reach a majority and form a government.
This has been the case for five of 12 governments during Spain's four decades of democracy, with regional parties acting as the glue to stick minority-led national governments together often in exchange for more favourable terms on regional issues.
As Spain tries to avoid a possible third general election in one year, two regional ballots in the Basque Country and Galicia this weekend had been framed as game changers, re-defining the balance of power between parties at a regional and national level and smoothing the way for coalition government in Madrid.
But acting PM Mariano Rajoy's virulent anti-regionalist rhetoric in the face of a breakaway bid from the north-eastern region of Catalonia has alienated these parties, dividing those who want greater independence for regions from those who believe in centralised rule from Madrid.
"These parties that you help to govern in Madrid later say no to your demands," said Andoni Ortuzar, leader of the conservative Basque National Party (PNV) which has ruled the regional government for much of the democratic era.
"Rajoy has been like a steam roller, especially in regional issues. It's unlikely that now we are going to help him to govern Spain," he added in an interview with Reuters, ahead of regional elections the PNV is expected to win.
The PP says regional parties should focus not on getting more autonomy but on creating jobs and ensuring Spain's remarkable three-year economic rebound continues.
"If the PNV was really interested in the well-being of the Basques, it should help Mariano Rajoy form a government and become Prime Minister so the economic recovery can continue," said Nerea Llanos, PP secretary general in the Basque Country.
AN UNEASY UNION
High mountain barriers and diverse climates have forged strong regional identities in Spain, ruthlessly brought together under the centralising forces of the four-decade dictatorship of Francisco Franco, but given their own autonomous rule when Spain entered democracy in the late 1970s.
The Basque Country has one of the greatest levels of autonomy of nearly any region in Europe with powers to raise its own taxes and control over where most of that revenue goes.
Like Catalonia, it also has its own police and controls policy areas ranging from education to health and jobs.
High spending on education and health and investment in industry has given the region one of the highest economic outputs per head, second only to Madrid, one of the lowest school drop-out rates and the lowest unemployment rate in Spain.
"For me, the Pais Vasco elections this Sunday are much more important than the Spanish elections," said Inaki Larrazabal, a 57-year old businessman buying cheese in Guernica market. "Most of the decisions that will affect me are made here rather than Madrid."
Stallholders set out piles of tomatoes and green peppers, chatting in the pre-Romance Basque language, a linguistic riddle peppered with 'x's and 'k's that bears no relation to Spanish, French or Portuguese.
It was on a market day in 1937 that German bombers at the request of Franco razed the town to the ground killing hundreds of civilians in an attack that horrified the world and inspired the eponymous painting by Pablo Picasso.
Regions have recovered their identities since the dark days of the Civil War and the dictatorship that followed, reviving previously suppressed languages like Basque and Catalan. But some want more, with Catalonia seeking to hold a referendum on independence from Spain, blocked in courts by the PP government.
WE WANT MORE
The Basque government, led by the PNV, also wants more autonomy, stopping short of full independence. It says Madrid has not conferred competencies over pensions and prisons like it was supposed to under the terms of the constitution.
"Rajoy is deaf at the moment," said Ortuzar of the PNV.
Polls show the PNV winning most votes in a Basque regional election on Sunday, but it may have to ally with another party to form a majority government. Unlike in the Spanish parliament, coalition administrations are the norm in the Basque Country.
Ortuzar says Madrid's stonewalling of requests for more autonomy will only raise pressure for more independence.
"Unfortunately, in a globalized world, small cultures are disappearing little by little," says Txakartegi back in the market. "But for now we stand firm by our language, our culture and our way of life."
Recommended Reading :
* Third election would see record sbstention, better result for PP : Poll
* Spain's King Felipe to hold off on further round of political talks