Spain Officially Most Corrupt Country in EU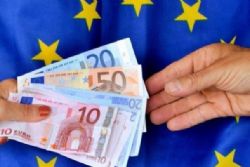 Spain is officially the most corrupt country in the European Union according to a report by the European Commission.
In its report, the EU says Spain is the largest contributor to a reported Ä120 BILLION it loses every year to corruption.
The commission is reported to be growing impatient over Madridís failure to clamp down on corrupt politicians and institutions.
In particular, it says Madrid is unable to control the councils and mayors in the autonomous regions, who have wide-ranging and discretionary powers over urban planning.
Spain is one of the most heavily decentralised democracies in the western world. Spain also has more politicians per head of the population, compared to other countries with a similar population count.
There is little doubt this decentralisation is a major contributing factor to the corruption mess, with little oversight or regulation of the autonomous regions, provinces and town halls.
The damning verdict from Brussels will come as no surprise to most, especially residents of Spain, as year after year, hundreds of corruption cases against politicians and officials in public service are brought to the publicís attention.
Yet surprisingly few cases brought before the courts and those that do, endure for years costing millions of euro of public money.
However, as the costs rise, pressure mounts on prosecutors to find a swift resolution, often resulting in minor sentences or fines being imposed.
Worryingly, very few corruption cases are brought to trial by law enforcement agencies. Instead, itís left up to NGOís, charities and trade unions to pursue justice for the public.
But even some of these institutions are not immune to corruption themselves.
Miguel Bernad, head of Manos Limpias - a trade union proclaiming to ďdefend the Constitutional Rule of law against corruption and separatist nationalismĒ (Wikipedia), was recently exposed for corruption and extortion by demanding huge sums of monies from defendants to drop cases brought by the trade union.
The revelation threatens to completely derail the ongoing legal case in the Noos corruption scandal involving members of the royal family, including the Infanta, Cristina Federica - Sister of the King of Spain, Felipe VI.
With no end in sight of the relentless emergence of new corruption allegations within Spainís political system, one could easily be forgiven for believing it is a national sport and the EU accolade being merely a trophy of achievement.