Poll Reveals PP Coalition Victory in THIRD election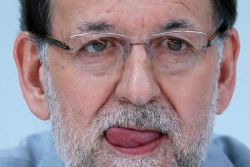 A poll in Spanish national newspaper El Pais has suggested the conservative Partido Popular would win a second term in office if Spain holds a general election in December, albeit in coalition.
The closely watched, monthly Metroscopia survey didn't go as far as to say how many seats the PP would gain, although it did predict caretaker Prime Minister Mariano Rajoy would net as much as 37.8 percent of the vote, enough to form a majority coalition government, potentially, with Ciudadanos.
Until now, the socialists, PSOE, have widely voted against the investiture of Mariano Rajoy and his government. However, internal politics and a coup d'état which has divided the party on whether to simply abstain and allow Rajoy to govern in minority, continue to vote against Rajoy or even join the PP in coalition – A proposal floated by Rajoy after the first inconclusive general election in December 2015.
The poll even showed as many as 56 percent of socialist voters would prefer it, that PSOE allowed the PP to govern.
Yet, with PSOE in such disarray and a looming leadership contest following the resignation of its leader, Pedro Sanchez, the prospect of new comers Unidos Podemos leap leapfrogging the socialists and becoming the main opposition party within parliament looks all the more likely.
The Metroscopia poll suggests Podemos would come second with 22.1 percent of the vote, whilst PSOE would slip even further down to 18 percent, compared with 22.7 percent of the vote in June's general election, the second in less than a year. Cuidadanos would slip slightly in the percentage share of the vote, but would likely retain all the seats it has at the moment.
Evidently, election weary voters have grown frustrated at the political impasse. Fewer votes overall were cast in June's second general election than in the previous December at the first general election.
Yet despite a seemingly never ending series of corruption scandals coming to light involving the PP nationwide over the last 8 years, surprisingly, it is widely predicted the PP would clean up and even increase their number of parliamentary seats if a THIRD general election goes ahead later this year in December.
Mostly hardcore and traditional PP voters are expected to turn up en masse, whilst seemingly, other voters would not bother to vote, a situation the PP is banking on heavily.