Margallo Sparks Tensions, Rajoy Gives Assurances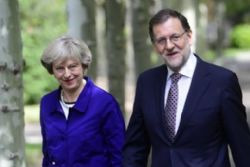 Spain's caretaker Foreign Minister Jose Manuel Garcia-Margallo has warned the only Brexit deal the UK can hope for with Europe would be similar to the CETA deal with Canada.
Speaking at an EU meeting of Foreign Ministers, the loose cannon FM rejected any possibility of a Norwegian, Swedish or Swiss agreement.
"Forget the Norwegian model, forget the Swiss model because of the condition for the freedom of movement of people, and forget a Turkish-style customs union." He said.
Adding - "If the British insist on having the option to restrain the free movement of European workers to the United Kingdom, the only solution is the Canadian one."
With the exception of select agricultural products, the EU CETA deal with Canada, removes virtually all trading tariffs between them.
"The deal is important in itself and as a model" for a deal with Britain, Margallo stated.
However, there is no indication on what this means for the city of London pass-porting privileges, travel across the EU and UK nationals living in Spain or the rest of the EU.
Since the UK voted to leave the EU, Margallo has been very vocal on what the EU and Spain should do in response.
Barely a few hours had passed after the result was announced when he immediately raised the Gibraltar issue and co-sovereignty claims.
Earlier this month, he fired the starting pistol at the UK by fiercely insisting the UK would have to pay for all medical treatment of its nationals living in Spain, something the UK already does to the tune of serveral hundred million euros a year.
However, he wasn't clear how this would relate to UK nationals living, working and paying into the Spanish state social security system, who like natives, receive state healthcare much like the NHS.
British PM Theresa May has indicated favouring a "hard-brexit", which would ultimately limit immigration from the EU whilst imposing trade tariffs on UK goods and services.
However, after a meeting in Madrid over the weekend with Spain's caretaker Prime Minister Mariano Rajoy, details have emerged that Rajoy has told May that "British Expats can rest easy" signalling a softening of moods and crucially, recognition of the value that British Expats add to the Spanish economy.