Thousands of Dogs and Owners March Against Animal Cruelty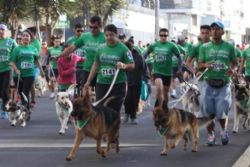 Around 3,500 dogs and owners took to the streets and ran through Madrid on Sunday in a Dogathon aimed at raising awareness of animal cruelty and to encourage dog adoptions.
The fifth edition of the annual event, named "Perroton", saw all breeds and sizes of dogs hit the streets and this year brought a sort of international acclaim to the event after U.S. Ambassador James Costos received an honorary award for his country's efforts against animal cruelty.
Thankful for the honour, the US Official tweeted days before the event that he would run to "highlight the work of the U.S. government against animal cruelty."
Animal cruelty towards domesticated animals is a punishable offence with fines and/or custodial sentences.
Yet the prospect of prison has done little to deter the annual dumping of pets around summer time.
Owners, eager to escape for the summer holidays, often find they cannot take their pets with them and have no means to have them cared for whilst away. Instead, many pets are simply abandoned on the streets or worse.
Furthermore, the nation is deeply divided when it comes to bullfighting and bull runs.
A rising number of the population now consider the spectacles savage, outdated, vulgar and completely unnecessary in modern Spain. Whilst die hard traditionalists proclaim the events are part of Spain's cultural heritage.
Several municipalities across Spain have withdrawn public funding for local events, with some even banning the events outright. Some town halls are considering a ban whereas others have decided to hold referendums within the municipalities to decide.
However, all of this progress could be about to unravel after the ruling national PP government took the regional parliament of Catalonia to the constitutional courts over its decision ban bullfighting throughout the region back in 2010.
A majority of constitutional court Judges appear to agree, that Catalonia has overstepped the regional parliament's authority and violates Spain's federal Constitution.
An Ipsos-Mori poll released in early 2016 found that 58 percent of all Spaniards oppose bullfighting with 84 percent of 16-24 year olds express little or no pride in bullfighting as a national pastime.
If the ban is overturned, it could set a precedent and overturn similar bans in the Canary and Balearic Islands as well as municipalities across the nation.
A Change.org petition has been setup to protest the potential overturning of the ban. Insterested parties should click here to sign the petition .
A decision from the Constitutional Courts is expected in the last week of October 2016.