Rajoy set to be reinvested as Prime Minster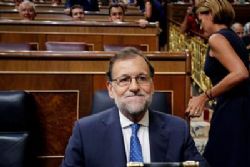 Mariano Rajoy, the caretaker prime minister of Spain is set to be reinvested as Prime Minster after appealing to parliament to end the political stalemate.
Rajoy has been caretaker prime minster of the nation for the last 10 months after TWO inconclusive general elections failed to produce a majority government, despite his party, the PP, winning the most votes on each occasion.
"The exceptional circumstances demand that we put aside ideological confrontations and combine our efforts, exceptionally, because we are dealing with an unheard-of situation" he said, warning the alternative would be a damaging THIRD general election in a year.
However, his speech to the gathered parliament is highly unlikely to result in him winning a confidence vote reinstating him as prime minister. Instead, it will likely go to a second vote on Saturday 29th October where he merely needs more votes in favour than against.
Opposition groups Podemos and PSOE have both stated they will vote against Rajoy in the first round of voting, but socialist PSOE will abstain in the second vote on Saturday paving the way for Rajoy to become Prime Minister and govern Spain once more, albeit in minority and as part of a coalition government with new comers Ciudadanos.
Deeply divided over the subject of abstaining, the Catalan arm of PSOE has announced they will defy the party stance on abstaining and instead vote against Rajoy in both rounds of the investiture vote.
No matter how the investiture votes go in the next few days, for sure, Spain is already in unchartered political territory.
For decades, the government of the day has grown used to being in majority and being able to bulldoze their agenda through parliament.
Assuming Rajoy is reinvested as Prime Minister, Rajoy would in future have to seek support from the Basque Country and Galicia with any legislation he intends to get passed through Parliament or at the very least, rely on abstentions by PSOE.