Balearics Fight to Keep GMT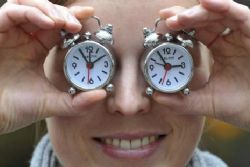 As the rest of Europe prepares itself to turn back the clocks for winter this weekend, the Balearic Islands have launched an ambitious attempt to keep GMT.
Islanders are raging as given their location, turning back the clocks means the sun sets an hour earlier than the mainland, forcing them to endure longer nights than would normally be the case.
Technically, the Balearic Islands as well as mainland Spain and France should all be on GMT given they are in the same time meridian as the UK.
During the Second World War, many European nations switched their national times to Central European Time in an effort to remain in sync with Nazi Germany or as a show of allegiance to Hitler.
However, many did not revert back to GMT after the war and have remained out of sync with the sun ever since.
On Tuesday, the Balearic Parliament approved a measure to ask the central government in Madrid to let it hang onto an extra hour of daylight, arguing it will promote greater economic activity, and improve health.
The motion, raised by the Més per Menorca coalition, claims that keeping the islands on the same time as mainland Spain is based on "obsolete industrial" concerns and calls for a more "rational, logical and natural" system.
Whilst the proposal is likely to be rejected by Madrid this late in the day, three years ago, a parliamentary commission recommended that Spain turn its clocks back to GMT and adopt the shorter working day favoured by its neighbours.
Caretaker Prime Minister Mariano Rajoy has vowed to pursue the recommendation by the parliamentary commission if he is re-elected as Prime Minster.