Rajoy Reinvested As Prime Minister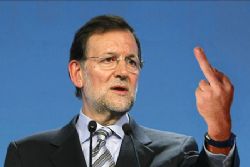 Mariano Rajoy, leader of the Popular Party has been reinvested as Prime Minister of Spain, with a little help from socialist party, PSOE.
Rajoy, who until this evening's investiture vote, had been acting Prime Minister for the last 10 months after TWO general elections failed to produce a majority political party to govern the country.
In total, Rajoy received 170 votes in favour, 111 votes against and 68 abstentions.
Earlier this week, parliament held a confidence vote in which a parliamentary majority is required to win, but Rajoy failed in that vote and today's vote only required more yes votes than no.
Spain now avoids a THIRD general election which had threatened to all but destroy the socialists and give the PP an outright majority.
PSOE last weekend voted to break the political stalemate and abstain instead of voting no. That decision has deeply split the party and angered PSOE members. The ramifications of which could echo for years to come.
In a shock announcement earlier today, Pedro Sanchez, the former leader of socialist party PSOE, ousted through a party coup, resigned his seat in parliament and would not be voting.
Sanchez was faced with the impossible decision of abstaining in the vote, enabling Rajoy to govern or defying the party line and voting no. He said ordinary members of PSOE felt their voice had been ignored by the new party line. He vowed to reach out to all PSOE members and listen to their concerns.
Yet, as expected, several PSOE politicians defied the party and chose to vote no. In total, 15 PSOE politicians voted no, many of which were from the Balearic Islands and now face a fine from the party and the possibility of being expelled. There is even the possibility of the PSC-PSOE socialists, who represent Catalonia and the Balearics, splitting from PSOE.
Following the vote, Mariano Rajoy now has the mandate to form a government, albeit in a minority capacity.