Expats Get 'Vote For Life' as British Government Scrap Limit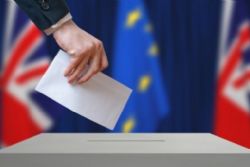 In David Cameron's Conservative manifesto in September 2014, he pledged to abolish the 15-year voting limit currently set in place for British expats overseas. However, this never came to fruition. Fast forward two years, and all eyes are on the Conservative Government in the UK to step-up to the plate and correct what is considered an injustice to British expats.
Currently, British expats who have lived overseas for more than 15 years are banned from voting in general elections in the UK. David Cameron's failure to act upon this aspect of his manifesto meant that 700,000 UK nationals living on the continent were without the right to vote in the EU referendum.
During the EU referendum campaign, a group of British expats launched a High Court bid to overturn the rule so that they could have the right to vote on something that could affect their lives. The campaign was fronted by 95-year-old World War Two veteran Harry Shindler. Considering the new advancements, Mr Shindler commented, "It seems the government are moving on this, and that's good."
Announced by ministers in early October, British expats will be given a 'vote for life', allowing them to vote in general elections, regardless of what country they are currently residing in. However, the change will be voted against in the Houses of Parliament before a concrete decision is made. If the removal of the barring goes forward, expats will have the right to vote in any general election thereafter.
Chris Skidmore, constitution minister, stated "British citizens who move abroad remain a part our democracy and it is important they have the ability to participate. Following the British people's decision to leave the EU, we now need to strengthen ties with countries around the world and show the UK is an outward-facing nation."
He continued, "Our expat community has an important role to play in helping Britain expand international trade, especially given two-thirds of expats live outside the EU."
Geoffrey Clinton-Brown, Conservative party politician, has always backed the notion that all British nationals should be given the vote in general elections. He welcomed the proposition, commenting "British citizens abroad are some of the best unofficial ambassadors that we have. It is only right and fair after a lifetime of contributing to the UK that they in turn should be given the right to vote."
Before 1985, no expats could vote in UK national elections.
After the Prime Minister revealed a hard-line approach to Brexit, cracking down on foreign staff over British workers, many fear that British expats overseas could now face similar restrictions. In light of this, International Trade Secretary, Liam Fox, indicated concerns that expats could become a negotiating card during Brexit discussions.
Recommended Reading :
* Will British Expats in EU face green card scheme ?
* Brexit would make Expat Pensioners £50,000 poorer