EU Commission decides not to suspend EU funds for Spain, Portugal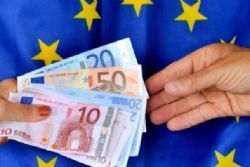 The European Commission decided on Wednesday not to suspend EU funds for Spain and Portugal next year following their breach of EU budget rules, in a new sign of a more accommodating fiscal policy.
"The event that required a proposal by the Commission to suspend parts of the European Structural and Investment Funds is no longer present and there will be no such proposal," the EU executive said in a note, adding that the sanction procedure will be "held in abeyance".
Over the summer, the EU had also decided not to impose fines on Spain and Portugal as part of the same sanction procedure triggered by their excessive deficits and the lack of timely corrections to the fiscal gaps.
Recommended Reading :
* Spain officially most corrupt country in EU
* EU fires warning shot at Spain