Scandal Ridden Rita Barbera Dies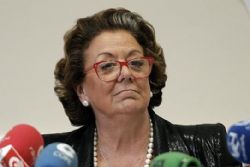 Rita Barbera, the former Mayoress of Valencia and a stalwart of the ruling Popular Party, has died of a heart attack in a hotel near parliament on Wednesday morning.
The controversial figurehead was Mayoress of Valencia for 24 years and presided over a decade of "easy money" after Spain joined the Euro.
Cheap credit and massive investment lead to a series of opulent, over budget and now defunct developments, most notably an unused opera house amongst others, leaving tax payers to pick up the tab.
Barbera, 68, a career politician was a regular figure at the opening of the Valencia Fallas fiestas, annually appearing on the town hall balcony making speeches surrounded by children in costumes and prominent political and business figureheads.
However, her dominance in the city began to tumble after the 2008 financial crisis which took Valencia to the brink of being bailed out by central government.
Barbera became embroiled in a series of graft corruption scandals which tainted her long career.
Further shadows were cast over her tenure in office as news of her expenses claims became known.
The public were furious after it emerged she was living a life of opulence and luxury by staying in 5-Star hotels, travelling first class and enjoying fine food all at the expense of taxpayers who were struggling to make ends meet.
Rita was eventually dethroned as Mayoress of Valencia following municipal elections in May 2015 by new comers Compromis, a left wing political party with links to Podemos.
However, she was controversially awarded a seat in the Senate and later refused to resign her seat as more and more corruption allegations emerged. She was famously photographed asleep in the Senate during a session, which quickly went viral across the internet.
Her seat in the Senate awarded her certain immunities from prosecution, however on Monday, Barbera appeared before the Supreme Court under investigation of money laundering offences during her time as Mayoress of Valencia.
The Supreme Court was the only court in the land which could prosecute Barbera .
Spanish PM Mariano Rajoy told journalists "We are deeply affected. She dedicated her life to Valencia".