'Sniper' who simulated assassination of Spain's king faces jail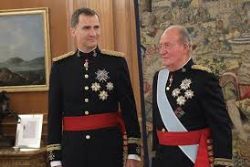 A would-be sniper, who targeted King Felipe VI of Spain and dozens of other public figures as part of a plan to embarrass Spain's security forces, could be facing a nine-year jail term.
Santiago Sánchez Ramírez was obsessed with the weaknesses in the security for high-profile public figures. He claims to have carried out 300 "fake assassinations" in recent years, with members of the royal family and senior politicians frequently among his targets. He went on trial in Madrid last week for charges relating to illegal possession of weapons.
In June 2014, Santiago Sánchez Ramírez managed to take an arsenal of weapons up to a hotel room in central Madrid with a clear view of the Congress building across the streets, where Felipe was being crowned after the abdication of his father, King Juan Carlos I. He then aimed a camera through his telescopic sight and filmed King Felipe VI emerging from the building. He fired no shots at the King.
Santiago Sánchez Ramírez told El Confidencial, "I got to the hotel just like any other person. I had the guns in a suitcase. They were totally real. And I took them through all the police controls, I just had to show my ID card and say I was going to the hotel. That's it. Nobody said a thing to me."
He used the footage in a documentary-style video, titled "The day I could have killed the King". It also shows him handling weapons and has footage of many more would-be targets. He claims that he could have killed King Felipe VI on six occasions and his father on twelve occasions.
On the National Holiday Parade in Madrid on 12 October 2012, he had set his sights on the then Prince of Asturias, Prime Minister Mariano Rajoy and the then Socialist Party leader Alfredo Pérez Rubalcaba. "It could have been the biggest assassination in history," he said.
Charges of attempting to murder the King were eventually dropped.
Recommended Reading :
* Spain's King Felipe to hold off on further round of Political talks
* Spain's King Felipe gives Rajoy 1 week to form Government