Number of Millionaires Grows in Spain by 1.8% to 386,000 People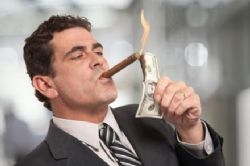 The number of millionaires in Spain reached 386,000 people in 2016, an increase of 1.8% or 7,207 compared to the previous year, according to the World Wealth Report released Tuesday by Credit Suisse.
The Swiss financial institution estimated that in 2021 the number of millionaires in Spain will increase – by a staggering 41% – to 544,000 people.
Spain has 384,411 residents with a net wealth of between $1 million and $50 million each.
A total of 346,612 Spaniards have assets worth up to $5 million; 24,666 possess up to $10 million and 13,133 own up to $50 million.
The report added that 1,487 people in Spain own more than $50 million.
Recommended Reading :
* Multimillionaires on the rise in post-crisis Spain
* Almost 30% of Spaniards at risk of poverty or social exclusion