Spanish unemployment sees first November rise in three years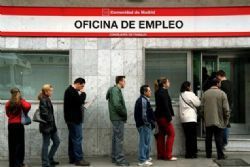 November was a poor month for Spain's job market on two fronts, with unemployment climbing and the number of people making social security contributions – considered a measure of job creation – going down.
A total of 23,674 people stopped paying social security contributions last month, bringing down the number of people doing so to 17,780,524.
At the same time, 24,841 people registered as jobless at the country's unemployment offices in November, meaning the total number of people officially out of work is 3,789,823, according to figures released on Friday by Spain's Employment Ministry.
The poor figures buck a trend of positive November results that began in 2013, and the root cause is a fall in the number of hospitality workers paying social security contributions.
November is a tough month for the industry with relatively few holidaymakers, and employers need fewer hands on deck. Last month over 90,000 people who had been employed by the industry stopped making social security contributions.
By contrast, the education, construction and commerce sectors all employed more people.
The poor jobless figures for November still stand after seasonal adjustment, with a rise of 14,543 people. However, in seasonally adjusted terms, the total number of people making social security payments held firm.
The number of contracts signed in November was 1,743,708, an all-time record for the month and up 8.65% on a year earlier. However, the vast majority of those new contracts were temporary.
In year-on-year terms, there were 557,437 more people making social security payments in November 2016 than was the case 12 months earlier – a rise of 3.24%.
Spain's official jobless rate fell below 20% in the third quarter of 2016 for the first time in six years to hit 18.91%. This brought to an end the longest period in the last 40 years when more than one in five of the working population was idle.
Recommended Reading :