Spain should step up job creation, IMF says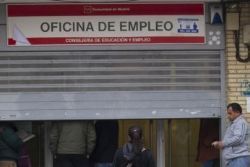 Spain should step up the reforms that have helped its economy recover by taking extra measures to promote job creation and bring down high public debt, the International Monetary Fund said on Tuesday.
Though employment is growing at 3.0% annually, the IMF identified Spain's long-term and youth unemployment rates - second highest in the EU behind Greece - and large proportion of temporary contracts as weaknesses.
In a preliminary annual review of Spain's economy, it said Spain's "immediate attention" should be on gradually trimming the public deficit in order to cut debt after several years in which deficit targets have overshot those set by Brussels.
Spain is behind on its budget plans for 2017 after a 10-month delay to form a government following two inconclusive elections.
To help rein in the deficit next year, conservative Prime Minister Mariano Rajoy, re-appointed at the end of October, aims to hike taxes on tobacco, alcohol and sugary drinks, introduce environmental levies and limit tax breaks for companies.
The IMF said those measures were an important step towards reaching deficit targets - set at 3.1% of output in 2017 after an expected 4.6% in 2016 - but it also recommended reducing VAT exemptions.
The IMF expects Spain's economic growth to slow to 2.3% in 2017 from 3.2% this year as the beneficial impact of lower oil prices and euro weakness fade. Spain's government projects growth of 2.5% next year.
The Fund said Spain's strong recovery from a deep recession was partly due to reforms passed under Rajoy's previous government, aimed at improving labour market flexibility and moderating wages, which boosted competitiveness.
But it also urged Spain to go further by better targeting hiring subsidies for employers and increasing incentives for them to award staff permanent contracts.
"Over the medium term, growth prospects are expected to slow further as Spain will continue to confront particularly the challenges of feeble productivity growth and high structural unemployment", the IMF said.
The IMF also said Spain should continue to strengthen its banks, ensuring they have adequately provisioned for losses to be able to withstand shocks. They should further reduce staff and offices, the Fund added.
"Getting these economies of scale could also imply mergers, whether ...within the national economies or crossborder ...Both are possibilities," Andrea Schaechter, head of the IMF mission to Spain, told a news conference.
Recommended Reading :
* Spanish unemployment sees first November rise in 3 years
* EU fires warning shot at Spain