Spanish Airport Passenger Numbers up 11% 2016 to date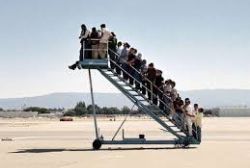 The 48 Airports in Spain's Nationally owned network - AENA - served a total of 215.1m passengers in the first 11 months of 2016 - up 10.9% on the same period last year.
AENA also announced that the country's top 16 busiest airports all saw an increase in passenger numbers during this time, with 11 showing particularly healthy increases in excess of 11%.
The biggest and busiest Airport – Madrid-Barajas Airport – saw impressive passenger growth of 7.2% to 3.9m passengers in November and a rise of 7.4% in accumulated passengers for the year to 46.3m.
Spain's top 16 Airports :
Madrid-Barajas was followed by Barcelona-El Prat with 3m passengers in November (+9.1%) and 41.1m in the first 11 months (+10.9%). Gran Canaria followed in November with +5.2% to 1m passengers, alongside 10.9m for the full 11-month period.
Between January and November the other airports showing strong growth over the 11-month period within the top 16 (in descending order) were as follows :
Palma de Mallorca 25.5m (+10.7%); Malaga 15.7m (+15.5%); Alicante 11.6m (+16.8%); Tenerife Sur 9.5m (14.8%); Ibiza 7.2m (+14.6%); Lanzarote 6.1m (+8.4%); Valencia 5.3m (+14.2%; Fuerteventura 5.2m +12.8%; Seviila 4.2m (+7.3%); Bilbao 4.2m (+7.3%; Tenerife Norte 3.8m (+11.3%); Menorca 3.1m (+10.9%); and Santiago 2.3m (+9.6%).
Recommended Reading :
* New route launched San Javier Airport, will Corvera ever open ?
* New routes announced Murcia San Javier to London