easyJet to open 10 new routes in bid to double growth in Spain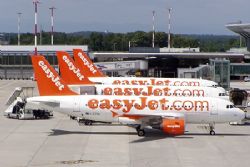 British low-cost airline easyJet announced on Tuesday that it is planning to start operating 10 new international routes to and from Spain. The company says the new flights on offer will increase the number of seats available to Spain by 11% – 16.4 million in 2017, compared with 14.7 million in 2016.
The airline plans to open a new base in Palma de Mallorca, start operations in two new airports in Granada in southern Spain and La Palma (Canary Islands), and add a fourth plane to its fleet in Barcelona. Javier Gándara, General Manager of easyJet Spain, said this expansion will create around 150 jobs.
The new routes will be Valencia–Hamburg, Valencia–Toulouse, Palma de Mallorca–Venice, Granada–Milan, Granada–Manchester, Bilbao–Paris, Santiago de Compostela–Milan, Murcia–London, and Menorca–London, the company said.
Gándara added that easyJet is not considering increasing routes to and from the Spanish capital, given that a large number of flights from competing airlines already take off from Madrid-Barajas Adolfo Suárez Airport, and there is not the same scope for growth as at other airports. The company closed its base of operations in Madrid two years ago.
In the wake of the UK vote to leave the EU, easyJet, the fourth most popular airline in Spain, is planning to protect itself against the possible effects of so-called "Brexit" by applying for a license in an EU country so that it can continue operating its European routes, Gándara explained. Currently, more than 50% of the company's flights take off and land outside of the UK.
The low-cost carrier also predicts that the cost of tickets will continue to decrease over the next year, despite the possibility of oil prices increasing.
When asked about remarks made by Michael O'Leary, CEO of easyJet competitor Ryanair, who recently stated that within the next five or 10 years the Irish airline will be able to give tickets away for free, Gándara was dismissive. O'Leary's comments, which made reference to the profits budget airlines can make from selling passengers optional extras and airport taxes, were, said the easyJet chief, "free and easy publicity."
Recommended Reading :
* Spanish Airport passenger numbers up 11% 2016 y-t-d
* New routes announced Murcia San Javier to London