FreedomPop Spain offers refurbished phones from EUR 99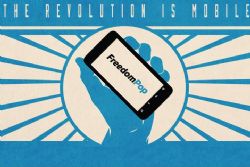 US-based MVNO FreedomPop has teamed up with online retailers eBay and Rakuten to launch sales of refurbished phones for its Spanish customers.
The first two phones available via FreedomPop's online store are the Samsung Galaxy S4 and Galaxy A5 at the heavily discounted rates of EUR 99 and EUR 149 respectively.
FreedomPop launched its service in Spain in July with a basic free plan that includes 100 minutes of calls, 300 SMS and unlimited WhatsApp use, plus four other 'premium' plans and various additional services such as voice mail for EUR 0.99 a month and the ability to accumulate data for EUR 1.99 a month.
Recommended Reading :
* Lycamobile Spain unlimited calls 3gb bundle down to EU10
* Spain's Tuenti launches festive promo offers : 4gb for EU14